WHERE DO GO ON REST IN FEBRUARY 2019?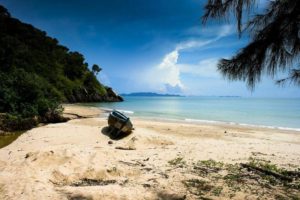 New Year's holidays have passed, but the winter is not over yet. The sun still appears rather rarely, it gets dark early in the street, and a strong wind seems to sneak under the skin. That is why, tired of the cold and monotony, many people set off in February for hot tours to warm countries. Here you are guaranteed vitamin D and a good mood. It remains only to determine where you can go to relax in February?
EGYPT – CLASSIC OF WINTER REST
Hot tours from Kharkov is difficult to imagine without the direction of Egypt. It is there that many travelers go in late January or early February. The weather at this time of year at the resort is just great. During the day, the air temperature ranges from +23 to +25 degrees. The water in the sea may be slightly cool, but this is unlikely to prevent you from swimming. In this direction, you can buy a last minute ticket on the site of the travel agency "Let's go with us." Egypt is suitable for traveling with friends, and for families with children. A huge variety of hotels All Inclusive will allow you to relax and enjoy the atmosphere of relaxation.
THAILAND – FOR LOVERS OF SAUSING LIFE AND PRICES OF COLORITE LANDSCAPES
Thailand has been a favorite among resorts for several decades. February is a great time to go here for last minute trips. Here you will find not only a beach holiday, but also fascinating excursions in the wild.
If you are traveling to Thailand with children, we recommend visiting the resorts of Hua Hin, Phuket, Chiang Mai, Samui or Krabi. They are distinguished by a rather developed infrastructure, a large selection of hotels, a gentle descent into the water and fine white sand. In addition, each hotel provides a wide range of entertainment for young travelers.
If you want to enjoy Thailand in the company of friends, discover Bangkok with its culture, national cuisine and traditions. By the way, lovers of noisy atmospheric local holidays can go to Thailand on February 5, 2019. That's when the country will celebrate Chinese New Year.
The air temperature in February at the resort ranges from +28 to +33 degrees. Water also has a high temperature (+ 27 … + 29).
ARAB EMIRATES – HOW ABOUT LUXURY REST AND SHOPPING?
Do you prefer to relax in a fashionable hotel right on the seafront with a gentle descent and snow-white beaches? We recommend you to choose last-minute tours from Kharkov to the United Arab Emirates. Here, both beach lovers and connoisseurs of shopping in large shopping centers can enjoy the rest.
Of course, you can hardly swim in the sea in February. The water temperature at this time of the year is + 18 … + 21 degrees. But to tan and lie on the beach, you can easily afford. The air temperature in the United Arab Emirates in mid-February ranges from +20 to +25 degrees.
This resort is of high quality with service and a wide range of entertainment for all ages.
CUBA – THE PRESENT ISLAND OF FREEDOM
Among the more original options can not fail to note the rest on the cube. Last minute trips in this direction are quite difficult to find. However, it's not too expensive to plan this trip yourself. Pay attention to the beaches of Varadero. White sand and warm gentle sea will allow you to relax and enjoy the atmosphere of relaxation. It is not recommended to fly to Cuba with children. This is still a place for more active tourists. The nightlife of the resort is replete with a variety of entertainment. You can easily find fabulous restaurants or noisy nightclubs. The water temperature in February is + 24 … + 27 degrees. The water also remains quite warm and pleasant for swimming.
TENERIFE – FOR ACTIVE REST PRICES
Going on burning tours from Kharkov can not pay attention to Tenerife. The weather in February is unlikely to allow you to swim in the ocean, but you may well enjoy the warmth of the gentle sun and walks in historical places.
Among the most popular excursion routes began to note:
Teide volcano;
National park;
Hell Gorge;
relic forest;
The Cave of the Winds;
lighthouse in teno.
Tenerife is also great for holidays with small children. Here you will find a large number of water parks, national parks, zoos, museums (science and space, history). Among other benefits of the resort:
You probably noticed that among all the options there are no last-minute tours from Kharkov to Turkey. This is due to the fact that in February the weather at the resort is not quite suitable for a beach holiday. During the day, the air temperature reaches a maximum of +15 degrees, and at night in the north of the country it can even drop to -5.
Of course, this is not the whole list of popular resorts, where you can go on burning tours from Kharkov. Be sure to look for options such as: Goa, Sri Lanka, Maldives, Philippines.