MEDITERRANEAN CRUISES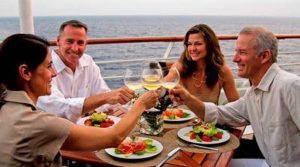 SEA CRUISES – COMFORTABLE RECREATION AND MASS OF IMPRESSIONS
Sea cruise trips provide a person with the possibility of comfortable rest, a lot of positive impressions and emotions not only from staying on board the ship, but also from walks in the coastal cities. The Mediterranean Sea is washed by dozens of countries in Europe, Asia and Africa, including the cradles of world civilization, which have a centuries-old history and cultural traditions. These are picturesque countries – Italy, Greece, Spain, France, Turkey, Croatia, Tunisia, Morocco, visiting port cities becomes a memorable event in the life of tourists. Therefore, Mediterranean cruises are a constant favorite among cruise destinations among Ukrainians.
SEA CRUISES HAVE A WHOLE RANGE OF WINNING VENUE BEFORE OTHER TYPES OF REST.
First, in a short time, without transfers, additional flights, transfers by road or rail, you can visit several countries. At the same time, the tourist protects himself from unnecessary worries about booking hotel rooms, discomfort with luggage and enjoying sea sunsets and sights of cities and islands.
Secondly, the cities visited during the tour are world centers of tourism with the established leisure industry on the shore, which sea travelers can also take advantage of. A wide choice of destinations and routes are offered, some of which may be original, designed for corporate tourists.
Thirdly, a comfortable diverse vacation on the cruise ship during the sea crossings is guaranteed to the tourist. Here everyone will have a warm welcome, services, as well as all the components of a carefree holiday. This includes the furnishing itself, liner interiors, restaurants with national cuisine of Mediterranean countries, SPA, gyms, swimming pools, concert halls, entertainment programs for adults and children.
Tourists who prefer to rest at sea over other types of travel can be given some useful tips to make the trip really comfortable and provide great mood and emotions.
1. Before you travel, take time to draw up a list of things you need to take with you on board the ship.
2. When choosing a wardrobe for a trip, you should take into account the maritime climate and the climate of those countries where you intend to stay – read the details of the cruise wardrobe here. Considering the time of the year, choose a wardrobe: in the summer you can get by with shorts, light dresses, bathrobes, T-shirts, in the fall and spring there is a reason to take warm clothes, one that can be put on one another, raincoat, gloves, an umbrella. When parking in port cities, you will need comfortable hiking shoes. When visiting some places of interest, such as churches, they may not be allowed to wear their clothes too open. If the plans include visits to official events or secular receptions on board the ship, then an appropriate wardrobe should be selected. For such events, suitable evening dress for women, a jacket or an elegant suit for men. On some liners, evening wear can be booked before sailing.
3. To capture what you see, you must be technically equipped. Take a camera or video camera with you, accessories (charger, adapters, flash cards), if necessary, and an underwater camera. You can take a player, mobile phone, tablet, if there is a need for this, but do not forget to grab spare power sources to them. On board most cruise liners, Wi-Fi is available and there are no problems with working on the Internet.
4. Do not forget to put in a luggage pharmacy. An abrupt change of cuisine, high-calorie or exotic menu can lead to indigestion. It is necessary to provide a set of drugs at the pharmacy not only for disorders, but also for headaches, seasickness, cuts, bruises and other unforeseen troubles. If you take medications prescribed by a doctor in normal life, you should take them with you, and when you arrive on the liner, warn the staff and doctors if you have serious illnesses, such as allergies. In this case, a list of emergency phone numbers you need to have on hand. Do not count on pharmacies that will meet in port cities. It may turn out that the necessary medication simply does not exist, since it is called differently, or many medications are released only by prescription. If you don't tolerate rolling, you need to ask the doctor in advance what medicines to take with you, sometimes it is enough to have a drug containing minimidrinate, mints or chewing gum. However, on modern liners there is almost no pitching.
5. Do not forget about such necessary things as an alarm clock, which will allow you to wake up on time, do not miss important events, binoculars for looking at islands, seascapes, whales or dolphins, birds. Be sure to provide protection from ultraviolet radiation, use for this sunglasses, sun cream, Panama.