THE MOST GREAT ENTERTAINMENT AND RESTAURANTS OF PRAGUE.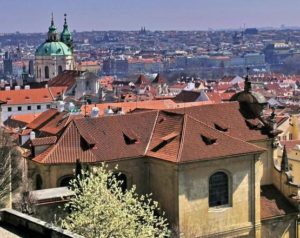 Prague is the real Eldorado of all kinds of nightlife. It has everything that the soul desires, from stunning shows that amaze with their frankness and extravagance and ending with concerts of classical music. Among other things, entertainment in Prague is also represented by luxurious numerous casinos and other gambling establishments. On People's Avenue, near Wenceslas Square, in the center of the city is the center of video games called Laser Games, which is very popular among young people. In addition to a large number of various machines for games, the center attracts visitors with the same tactical game.
Within the framework of the present tense, it provides an opportunity to fight with opponents who have been face to face with them. In the hall with an area of ​​8 thousand square meters, each participant is given a vest, which serves as a target, and a "laser" pistol. The battle lasts for 20 minutes and during this time it is necessary to score the highest number of points accrued for each direct hit to your account.
At the same time, the weapon is not turned off for a few seconds by the player they hit. During the battle, it is forbidden to run and physically contact the enemy. Such tactical entertainment requires rivals of skill and cunning. This center is quite popular among teenagers, that is why there are whole teams playing here that receive a substantial discount.
You can discuss further strategy in restaurants that the city is proud of, because they can even compete with museums with their true aura and interiors. Almost all the restaurants in Prague carefully preserve the unique spirit of the ancient capital of the Czech Republic, while they can boast of their excellent dishes. For example, the restaurant "U Fleku" is the most famous and old beer hall of the capital, founded back in 1499. It is famous for its dark branded beer.
In turn, the institution "Chertovka", which is located near the popular Charles Bridge in a picturesque place, boasts a bar as well as a terrace with a superb view of the Old Town. Yes, in Prague there are a lot of cozy restaurants with excellent cuisine and chic views of various places. Some of them are designed for family holidays, others are more for young people, but only one thing you can be sure of – they all provide excellent service.