ATTRACTIONS IN MTSHET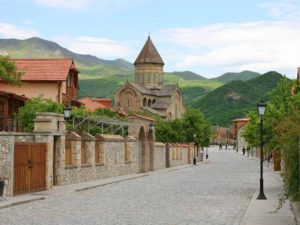 Mtskheta is the oldest city in Georgia, which for several centuries was its first capital. An interesting history of a small city and the oldest architectural monuments await you here.
The city of Mtskheta was built two and a half thousand years ago at a high cape at the confluence of the Kura and Aragvi rivers. This city is the first in Georgia at the beginning of the fourth century AD. e. adopted the Christian religion. And in the first century of our era, the great Roman commander Pompey built a bridge on the Kura River, which was periodically reconstructed, but reached modern times. For many years, the Georgian Military Road passed through the Pompey Bridge. Alexander Pushkin and Leo Tolstoy in different years, traveling to Tbilisi, drove through it. And only at the beginning of the 20th century, with the construction of the Zemo-Avchal hydroelectric station and the raising of the level in them, was the bridge partially flooded.
The most ancient history of Mtskheta and the preserved architectural monuments attract many tourists. This is a small regional center with a cozy atmosphere. It has historically interesting and ancient sights.
Monuments of history and architecture of Mtskheta
– Svetitskhoveli Cathedral is the main Christian church, built simultaneously in the fourth century AD. with the adoption of religion. Originally a wooden church was built, which stood until the 11th century. Then it was rebuilt into a stone cathedral, preserved to the present;
– The Bebrische Stronghold, which protected the city from the north from uninvited guests, was mentioned at the beginning of the 12th century AD er;
– Samtavro temple has a beautiful stone dome and was built in honor of St. Nina. This is one of the ancient nunneries. He is now considered effective – there are services;
– The Shio-Mgvime monastery was built in the 6th century, and the monks cells are located in mountain caves;
A small ancient church of Antioch, built many centuries ago, is located on the territory of Svetitskhoveli;
– Jvari temple was built by the Georgian king and is known from the 6th century. It is located on a high hill and is translated as a cross. In its place was originally a worship cross, set in honor of the adoption of Christianity;
– Samtavro cemetery Located near the temple. It is interesting in that the dead were buried on it in several tiers and the burials were combined for centuries in a row. The graves themselves are more like wells under the slabs. Here excavations were carried out and interesting and valuable artifacts from different epochs of human development were found.
Attractive appearance, comfort of a small town and architectural monuments make Mtskheta one of the best and attractive tourist destinations in Georgia.