TOP 5 HOTELS IN CARPATS WITH A SWIMMING POOL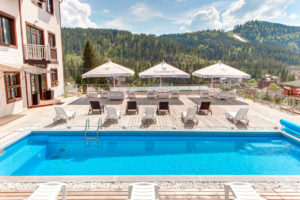 Rest in the Carpathians is often associated with snowy slopes and fast descent. But in the summer there is also something to see. Coniferous forests and clean air have a positive effect on health. It remains only to choose a good hotel with a large pool, where you can refresh yourself after a walk.
1. GRACE
A modern hotel "Grace" was built in the village of Shayan, which tourists compare with Switzerland. Stylish homes, well-groomed territory and mountain views make this place gorgeous.
For all guests open access to the pool. It is located right next to the hotel and is lined with wood. Also here you can arrange bike rides.
2. SLAVYANKA
Hotel "Slavyanka" takes care of a comfortable rest. This is not one multi-storey building, but a whole complex with a large territory. There are many cozy places and playgrounds. Wherever you look, there are forests.
In summer, the pool is especially appreciated. He is always watched, so the pool itself and the surrounding area are clean and tidy. View photos here.
3. WELLAND
In the city of Yaremche there is a hotel «Welland». It differs from its competitors by the location of the pool. Its territory is not closed by other buildings, but is open to the public.
Before you will be a long descent with bright green grass, and a little further go the mountains. This view is marked by all guests. In addition, the hotel itself knows its business. It offers a variety of entertainment, delicious cuisine and professional service.
4. FOMICH
Hotel Fomich is a premium class resort. Here, each room is elegantly furnished. Around only design ideas. There is a restaurant and a huge terrace.
The pool is built with a swing. It differs from the usual options, since a lot of money was invested in it. The service works at the highest level. It is only necessary to voice the request, and the staff will immediately begin to implement it.
Of course, such a holiday format costs money. But among the apartments there are different prices, so that each visitor will be able to choose for themselves the suitable option.
5. HONEY YARD
The name of the hotel is derived from personal passy, ​​the fruits of which are available to all visitors. In addition to fresh honey, you can enjoy the restaurant. The best chefs prepare both national and European cuisine.
The pool looks stylish. It is quite large, which allows guests to feel comfortable. There is a separate part for children, where they can frolic at shallow depths.
CONCLUSION
As practice shows, it is difficult to relax in the Carpathians in the summer without a pool. Active activities, excursions, bicycles, walks and much more exhausting. I want to plunge into the cool water or lie down on a sun lounger under the warm sun.
These hotels received high marks from visitors and were recommended by them as the best places to stay. You can come here with your family for maximum relaxation, and with friends for an unreal breakaway.