UNFORGETTABLE HOLIDAYS IN NETHANIA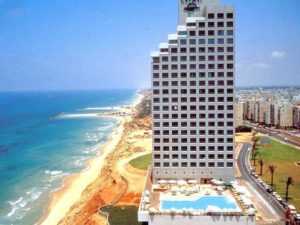 Israel is a small country with beautiful landscapes, unusual traditions, magnificent architecture and way of life. Every year more and more tourists from all over the world flock here. Even if you have never visited Israel before, everything here will seem familiar to you. For whatever purpose you come to Israel, this is a pilgrimage.
The Holy Land has always attracted and attracts tourists from all over the world, because this is the story of the bible of the Old and New Testaments. Everything is imbued with the spirit of religiosity, which is very important for pilgrims. In this place are connected three world religions. A small country with a rich past has turned into a friendly and friendly place.
Modern Israel is a thriving land and tourist paradise for travelers from all over the world. The historical past, a wonderful present and a glorious future are woven into a single whole: the eternal and unique. Not far from the picturesque capital of Israel is located the wonderful resort city of Netanya. It attracts tourists with its dissimilarity to other cities of the country, refinement and hospitality of the local population.
In Netanya, everyone wants to come back. Despite the fact that this is a young resort, there is everything for a great pastime. Check in at a local hotel and it will be very convenient to visit Jerusalem, Tiberias, Nazareth, relax in Tel Aviv and Caesarea, located near Netanya. In the evening, you can always return to the resort town for rest and overnight. In Netanya, there are a lot of tourists who specially come here from all over the world. Walking through the city, do not be surprised when you hear so many different languages. Most often among them are Russian, Hebrew and French.
Netanya is one of the most picturesque cities in Israel, whose coast stretches for ten kilometers. Many embankments for walking give the city a special charm. Every tourist can enjoy a walk along the shore. There is here the original embankment Bat Yam, which turned into an open gallery, on which works by the famous sculptor and designer Ruslan Sergeev are displayed. Any tourist has the opportunity to visit the gallery, located on the cliff, and then sit in a cozy cafe or a good restaurant with a stunning view of the sea, which opens from any table.
Mediterranean air contributes to a good rest on any of Netanya's many beaches. Anyone can try their hand at water sports. For those who want to pray, there is a large selection of synagogues, whose doors are open to all. Netanya is always happy to welcome guests.
The city constantly hosts festivals, fairs and cultural events, which attracts not only visitors to the resort center, but also local residents with whom you can freely communicate. Netanya is a very green resort, so everyone has the opportunity to visit one of the parks, of which there are many. And you can just stroll through the streets, admiring the local scenery, or go to the banks of the Alexander River, where you can not only make a kebab and relax in nature, but also get to know Nile turtles.
Netanya is not only rich in nature. It is also the historical center. For example, the monument erected here in honor of the victory of the Red Army over Germany for many years has attracted tourists with its originality. What else can you visit in Netanya? Shady tropical park with orchids of extraordinary beauty, ancient excavations in Caesarea, a museum in memory of Jewish soldiers who participated in the First and Second World Wars – this is not a complete list of places worth visiting to learn the history of this holy land.
Netanya is a sports resort for outdoor activities. Anyone can choose an activity they like: passive and active sports, equipped running paths, good tennis courts, bike trails, swimming pools and huge golf courses – this is all Netanya and its surroundings. The city built a new stadium, which is equipped with the latest technology and is considered not only the best in the country, but also one of the most technically equipped in all of Europe. This fact attracts football fans here. Those who are not keen on sports will certainly appreciate the huge number of shopping centers built near the stadium.
Beach lovers can book a flight over the water surface on a parachute, or simply watch a game of beach football from their sun beds. Netanya is a great place for those who combine passive recreation with sports. It is also an endless celebration of 365 days. At any time, day or night, anyone here will find entertainment to their liking. Even at night you can not sit in a hotel room, and relax in one of the local restaurants or nightclubs, and you can just enjoy the unique beauty of the coast of Netanya.