HOTELS BARCELONA: WHERE IT IS BETTER TO STOP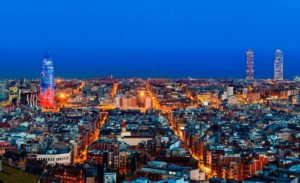 So, tickets to Catalonia are already in your pocket. Now it's up to the small: among the set of available places to choose the one that will be to your liking and afford. Therefore, we suggest you start a virtual tour of Barcelona hotels right now.
In order not to waste your time, you can immediately go to Trip May Dream – a resource that will be incredibly useful for both beginner tourists and travelers with experience. Here you can find everything: from the map to the same list of hotels.
Vacationers who are looking for cheaper options should get ready that living below 90 EUR will be difficult to find, except in some hostels or an acquaintance. Most budget hotels start from 98 EUR, such as the NH Barcelona Diagonal Center. This three star hotel is located in a rather strange, but quiet place far from the center. But the sea can be reached in about ten minutes, the same will take the road to the nearest metro.
The option closer to the sea, namely Travelodge Barcelona Poblenou, will cost you even less – 93 EUR. It is worth noting that there are paid breakfasts here, but very favorable location.
Practically in the same price category you can find 4 star hotels on the coast, such as, for example, Hotel Derby for 101 EUR and
Expo Hotel Barcelona for 109 EUR. The first is located in the center, but away from the sights, the second – a five minute walk from the station.
Those who appreciate comfort and are willing to pay for a higher category room can compare prices of Barcelona with other destinations that are located here and understand that they are quite reasonable and affordable.
For example, a room in a good 4-star hotel, such as the NH Barcelona Calderon, will cost you 164 EUR. Great location – just one block from the house of Gaudi – and stunning views from the windows of the rooms add points to the book of this hotel. Similar in level and Gran Hotel Torre Catalunya with a number for 177 EUR. From it to the central square you will reach in a matter of minutes, which is very convenient. The main highlight of the hotel Barcelo Raval is a stunning panoramic area, offering an unimaginable view. By the way, the price for the room will be quite affordable (178 EUR), given that the hotel is located in the heart of Barcelona.
Anyone who likes the most expensive hotels in Barcelona can safely look after any of the category of 5 stars. There are simpler options like Hotel Arts Barcelona for the price of 391 EUR, but there is also a complete chic from W Barcelona for 1268 EUR. Accommodation options in the city is more than enough, and every tourist will find here a place for the best holiday.