SKI RESORTS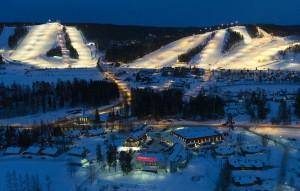 Finland is one of the most popular countries where winter sports are highly developed, famous for the world's best ski resorts. The extraordinarily beautiful nature with dense snow-covered forests attracts a great number of tourists every year, especially during the skiing season, which lasts from October to June. Ski resorts in Finland have well-groomed and technically equipped slopes. And neat villages located nearby, contribute to a quiet, but active recreation. The most famous resort centers, where you can spend an unforgettable time, using the services of five-star hotels and comfortable cottages:
Vuokatti;
Kuopio;
Kuusamo-Ruka;
Saariselka;
Tahko, Himos and others.
DETAILED DESCRIPTION OF RESORTS
Vuokatti is one of the most beautiful Finnish resorts, very popular with skiers. Its location contributes to a wide choice of tourist services and beautiful cottages, provides proximity to the ski slopes. The cost of living here ranges from 150 €.
Kuopio is located north of the Saimaa region, which is considered the best holiday destination in Finland. The peculiarity of the resort is the possibility of skiing in different places, because in the neighborhood in the surrounding areas there are five more ski centers. Rest will cost you about 130 – 200 €.
Kuusamo-Ruka ski resort is considered a popular recreation center among Finnish residents. Kuusamo, one of the largest cities in Finland, is only 25 km away. from the center of the resort. The harmony and tranquility of pristine nature are here along with the conveniences of the modern city. Quality rest at affordable prices guaranteed.
The city of Tahko is located in the heart of the country, one of the best in the central part. The popularity of this place has been achieved thanks to the wide range of services provided, and an established transport system makes it easy to get here from any place in Finland. Weekends in this place can be spent for as low as 170 €.
And, finally, the most actively visited ski resort, caught in the TOP 5 of the most famous Finnish centers – Himos. One of the oldest places of skiing, has won great popularity among amateurs and professionals of mountain tourism, provides quality services and always listens to the wishes of customers. The best option for a family holiday. The cost of a full ride here is from € 230 and above.
AT WHICH RESORT IS TO STOP CHOICE?
When choosing a place to rest, pay attention not only to the prices of accommodation in cottages and hotels, but also to the cost of ski passes, which you will have to purchase if you are going to ski. The level of services provided is equally high, the difference can only be the presence or absence of some items that do not affect the quality of service. In season, the most popular places are densely populated by vacationers, therefore we recommend choosing less well-known, but with a convenient transfer.