We go to the bouqel in the winter: where to settle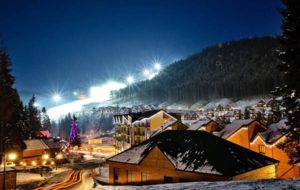 Winter holidays in the mountains: what could be better? Skiing and dog sledding, snow-white drifts glistening in the sun, light frost and a lot of positive. In the evening, there is a bathhouse and a delicious dinner in a wooden hut, where the knuckle, white mushrooms and uzvar will be served. And this is all – Bukovel: a ski resort with European service, Ukrainian affordable prices and Carpathian hospitality.
DIFFICULT CHOICE
The choice of housing in Bukovel is huge – hotels, cottages and villas seem to compete with each other in beauty and attention to guests. Like fabulous houses and palaces in the middle of the forest – all sparkle and beckon. Bukovel is a cozy and comfortable place for a winter holiday, it was no wonder that it was built by experts with experience in creating major ski resorts. But Bukovel differs from them by one thing – the availability of rest. Here you can afford a really luxurious living – in a fabulous place, among the Carpathian mountains and Hutsul hospitality. So, if you are going to rest in Bukovel in the winter of 2015-2016, check out our list of hotels for accommodation:
RADISSON BLU RESORT BUKOVEL – THERE IS NO CLOSE
This five star hotel does not need a description. Here you can relax to the fullest, living in elegant rooms with mountain views, visiting the spa, swimming pools, saunas and restaurants. And since vacationers come to Bukovel mainly for active recreation, then go on winter fishing, ride a horse and take a walk on a bicycle. But the main thing – the hotel has its own ski school, where even the biggest crazier will be taught to descend the mountain, to the ski lift to which is only a couple of meters away.
"SCREW" – TWO IN ONE
Opening this art-hotel, the owners wanted to unite nature and art, so that vacationers could feel the harmony, which is often lacking in a noisy city. The hotel is unique: it is a four-story cottage with suites. They were created by designers and got the names – "Wonder Moss", "Svetlitsa", "Birch Grove", "Spirit of the Forest". The hotel is located two kilometers from the center and the lifts – there is no noise, but there are excellent conditions – with a real bath and restaurants of Hutsul cuisine – generous, tasty and rich.
VIP RESIDENCE BUKOVEL – NEW RESORT
This apartment hotel also has suites, each of which has a small kitchen. But for convenience, there is also a European restaurant. Ski lifts are close to the hotel. And in order not to be bored of spending evenings, there is a spa center and a night club – with billiards, bowling and karaoke.
ROYAL VILLAGE RESORT – FOUR STARS IN RURAL STYLE
The highlight of this chic, modern hotel is in its rustic-style rooms. Only at first glance, wooden beds and the simplicity of the interior seem primitive. In fact, everything is done by experienced designers who fit all the attributes of modern comfort behind the seeming simplicity. The hotel has a real Hutsul kolyba, which serves Ukrainian borsch and Carpathian banosh.
VILLA "PARLIAMENT"
It is built on the outskirts of Bukovel – for those who love quiet rest. Comfortable four-star rooms, cozy gazebos for recreation, ski rental, billiards and barbecue – all this is very convenient for a family or friendly company. And to the slopes – just a few hundred meters.
Every hotel in Bukovel is good in its own way, the main thing is to know what you want. But the high level of accommodation offered at the resort and the beauty of the Ukrainian Carpathians guarantee that after returning from a vacation, you will still remember him for a long time and with warmth.