EGYPT IS THE PERFECT TRAVEL IN APRIL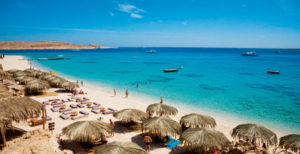 Mysterious and sultry Egypt is one of the most favorite destinations of Ukrainians, interesting at any time of the year, as the excellent beach holiday combined with the mysticism of the legendary "country of the pharaohs" possess incredible magnetism, forcing you to go with enthusiasm even hardcore homebody.
LAST TRIPS TO EGYPT THIS SPRING
If in the midst of spring there is suddenly a chance for a couple of weeks to relax, the best option to spend time with dignity is to buy last minute trips to Odessa from Odessa in April.
Hot tours to Egypt in April have many advantages, the main of which is their low cost. Prices of trips to Egypt and any other country in the world can be up to 30% of their original value.
The chances of finding such offers occur quite often, and some tourists prefer this way of traveling around the world, which is understandable: buying a hot tour, you can not only have a good rest, but also save a decent amount for all sorts of pleasant purchases for yourself and gifts for loved ones and friends
However, it's still not worth counting on permanent luck in that the necessary permits are "burned". Moreover, there may not be enough vouchers if a whole family is sent on the road. And one more important detail: in case of refusal from the burning voucher, the money will not be returned.
Hot trips to Egypt from Odessa can be found on the site of our tour operator CCI Tour and get acquainted with all the conditions and bonuses provided for such situations. In addition to the mandatory conditions for any tour, including last-minute, round-trip tickets, medical insurance, hotel accommodation and transfer, hot tours may include free excursions and additional services at the hotel, for example, a gym, sauna or SPA treatments.
EGYPT IN APRIL
April in Egypt is capricious and changeable. Often the desert wind flies, scattering fine sand everywhere, even the rains consist of water with sand. And yet, clear and serene days are enough to fully enjoy the rest. On the Red Sea coast in Hurghada, Marsa Alam, Safaga during the day it is almost hot – up to + 27 ° C, fresh in the evenings and at night – about + 18 ° C. Water temperature – up to + 23 ° С. In the Sinai Peninsula in Sharm el-Sheikh, Dahab, Taba in the afternoon around + 30 ° C, the water warms up to + 25 ° C.
trips to Egypt
Vacation in Egypt in April is an excellent opportunity for holidaymakers to open the swimming season, go diving, parasailing, windsurfing, ride a catamaran, water skiing. You can go to the desert on a jeep safari, devote a couple of days to the pyramids, the Sphinx, the museums of Cairo, excursions to Luxor, to the temples of Amon and Kom Ombo.