RECREATION OPTIONS: SEA, NATURE, EXTREME AND MUCH MORE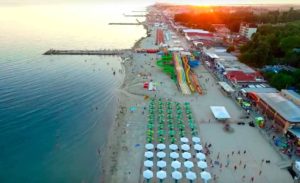 Recreation options: sea, nature, extreme and much more.Every velvet season millions of people wonder how to spend their holidays? You want to fill your desired vacation with vivid impressions and unforgettable emotions. And everyone can find a hobby and entertainment that satisfies individual preferences. To get a portion of incredible sensations, it is not necessary to travel to foreign resorts. Find a great way to hang out in Ukraine.
REST BY THE SEA
Summer vacations make one association for most people – a sandy beach, hot sunshine, refreshing waves and a relaxing breeze. It's hard to imagine a perfect holiday without the sea. And residents of Ukraine can enjoy the incredible scenic landscapes and pastime in the spa gems, without leaving the country.
If you want to spend your holidays on the Black Sea, visit such beautiful places as Iron Port, Azure, Primorskoe. Fans of active pastime can come back to the main Ukrainian "pearl". Here you are waiting for beaches for every taste, beautiful landscapes, unique color and architectural monuments. Excellent conditions for family holidays or fun in the company of friends offers Koblevo village in the Nikolaev region.
You can enjoy the seascapes on the Azov coast. Spit in the clear sea, entertainment for children and adults, hotels with a first-class level of service, clean beaches and exciting excursion programs – everyone will find entertainment to their liking.
CALL OF NATURE
Ukraine is not only rich in sea. There are many picturesque places that will be appreciated by people who want to connect with nature. If you are attracted to such a holiday, do not deny yourself the pleasure to visit these places:
Buk canyon in Cherkasy region;
Shatsky National Natural Park in Volyn;
Synevyr Lake in Transcarpathia.
Sunsets of incredible beauty, a special "wild" flavor, deep ponds with crystal-clear water and steep, steep slopes await the guests of these picturesque corners.
EXTREME AND COGNITIVE REST
If the ideal pastime excludes relax on the beach, go for a shot of adrenaline. In the Nikolaev region, near the village of Migea, there is a real paradise for extreme lovers – the landscape park "Granite-steppe Pobuzhie". Overcome the routes of any complexity, rafting on the Southern Bug, enjoying the warm water.
But this extreme does not end there. Why not fill up the list of their victories and not to conquer the highest point of Ukraine – Hoverla. The route with a length of 16 kilometers will submit to everyone and give an incredible experience.
Rest can be not only relaxing and energizing, but also informative. Interesting historical values ​​take you back to the past. Castles and natural parks, monasteries and fairs – the wealth and attractions of the country are always open to visitors and make the rest more interesting.