REST IN ODESSA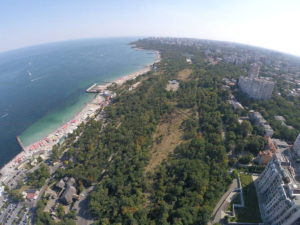 Odessa is considered to be one of the most famous resorts in Ukraine. Every year the city is visited by hundreds of thousands of tourists from around the world. Many of them stay in the hotel Odessa Ukraine.
In the summer, many guests of South Palmyra prefer a beach holiday on the seashore. The coastal zone within the city is equipped with beautiful beaches that stretch for 25 kilometers. Vacationers have a great time on the "Lanzheron", "Joy", "Arcadia", "Dolphin" and other beaches in Odessa, which you can visit for free.
You will meet numerous Odessa guests in the summer in the Primorsky district on the territory of the elite beach club "Arcadia" with all kinds of nightlife, restaurants, bars, cafes, water attractions, sports fields and a large swimming pool.
While in this hospitable southern city, you can walk or cycle along the 6-km coastal asphalt pedestrian road, which Odessans call the "Health Route". Cars do not drive on it.
Accommodation options for tourists in the city abound. You can stay in a cheap hostel or a comfortable hotel. Luxury hotels in Odessa attract wealthy visitors with royal rooms, first-class service and fine restaurants.
Businessmen and celebrities often stay at the Il Decameron Clubhouse Odessa hotel with a simple, strict and minimalist design. The building is equipped with panoramic windows and large balconies. The hotel is located in the central part of the city and is surrounded by landmark Odessa sights: the monuments to Pushkin, Duc de Richelieu, Alexander II and Catherine the Great, the famous Passage, Vorontsov Palace, the Assumption Cathedral and the Opera Theater.
Some tourists come to Odessa to rest and heal in local sanatoriums. Among the best of them, the "White acacia", "Lermontovsky" and "Odessa" are worth noting. These wonderful places for family holidays are equipped with cozy cottages.
The easiest accommodation option in Odessa is rented apartments, which differ in terms of comfort and location. Having bargained with the owner it is possible to bring down the price almost twice.
South Palmyra is full of bars, cafes and restaurants, some of which work almost around the clock. Musical cafes Bernardazzi and Utochkin are especially popular with tourists, where you can not only eat well, but also listen to jazz musicians.
Excursion program in Odessa can be very rich. Be sure to advise you to visit the Cinema Museum on the territory of the famous Odessa Film Studio, the Museum of Western and Oriental Art, the Astronomical Observatory and the Historical Museum, as well as take a tour of the Shah Palace, the Palace of Count Tolstoy, the Vorontsov Palace and Novikov Palace, where you will get acquainted with the exposition of the local history museum . And, of course, Odessa cannot be imagined without the famous Privoz and the Potemkin Stairs! Have you ever been to Odessa in your life? Then be sure to correct this omission!