HOTELS DUBROVNIKA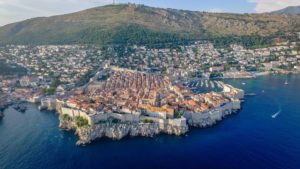 Dubrovnik is considered the most expensive city in Croatia. For budget travelers there will be difficult to find a hotel.
Inexpensive Hotels in Dubrovnik
If you are not ready to pay more than 50 EUR per room per night, then you can stay at the Guest House Redzic hotel. It is popular not only due to affordable rooms, but also because of its location. Just 2 km from this hotel is the Old Town.
Cheap Dubrovnik hotels can be found in the Babin Kuk or Lapad area. Both of them are part of the peninsula, which in its outlines resembles a butterfly. In these areas it is convenient to settle with children, especially if you are interested in a beach holiday.
HOTELS WITH AVERAGE COST OF LIVING
Dubrovnik hotels with 3 stars are considered to be the best in terms of price and quality of service. Among the most popular among tourists is the Komodor and Splendid hotels. Each of them is located a few kilometers from the Old Town, has a pool, a tennis court and a fitness center. The cost of living in one of these hotels will not exceed 60 EUR per day.
COMFORTABLE HOTEL COMPLEXES
In the Babin Kuk area is located the largest hotel complex in Dubrovnik, which is called "Dubrava". It includes several hotels of different star categories, tennis courts, a football field and golf courses, as well as a diving center, restaurants and private beaches.
The most popular area in the city is the Old Town. On its territory there is a hotel with 5 stars called The Pucic Palace. If you are not afraid of the regular performances of musicians and circus artists, open bars and restaurants all night long, then you can book a room here for 300 EUR per night.
Not far from the Old Town there are several more luxury hotels. Excelsior and Hilton are among them. The cost of living in hotels with 4 and 5 stars will vary from 130 to 220 EUR per room.
If you want to combine a beach holiday with a wellness, then it's perfect to relax in style at the Radisson Blu Resort & Spa, Dubrovnik Sun Gardens. It is located on the coast, has on its territory three pools, so you can swim here all year round. The cost of living in a hotel of this class starts from 220 EUR per room per day.
If you plan to reduce the cost of the trip, then look for hotels worth in advance. So you will have not only a larger selection of hotels not yet booked, but also a chance to get a discount.