WINTER HOLIDAYS IN FINLAND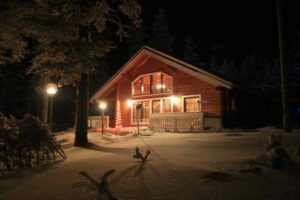 Finland is a great place to spend your winter holidays. And you can have a good time in a fun friendly company, and with family and children.
In this country, winter sports are very developed in all sorts of manifestations. Skis, skates, snowboard, snowmobiles and even snowshoes – all this can be easily found in almost every corner of Finland. Tourists can choose for themselves any ski resort, based on their preferences and physical fitness. There are more than 120 of them in Finland. Here are some of them.
SALLATUNTURI
The resort is located in the region of Eastern Lapland to the north of the Arctic Circle. It has 15 slopes of varying difficulty. All of them are maintained in excellent condition and will suit both skiers and snowboarders. There are special descents for children. In Sallatunturi for leisure travelers offer comfortable cottages, a restaurant with local cuisine. Any equipment for skiing can be taken at the rental point.
SKIP COMPLEX SALLA
A great place to spend your winter holidays is the snow-covered ski resort Salla, just 38 km from the Russian border and 930 km from Helsinki. In addition to the equipped ski slopes, there is everything for hunters and anglers. Untouched pristine spaces, hills, rivers and lakes will impress everyone who likes to relax in nature. Severe natural conditions are combined with comfortable hotels and cottages, where there is everything you need for a good rest after an active day.
SUOMUTUNTURI RESORT
Suomutunturi is another famous family holiday resort. directly on the border of the Arctic Circle and the Arctic (near the small town of Kemijärvi). There are ski slopes for beginners and pros, a special children's slope, routes for cross-country skiing. In addition to the descent from the mountains, there is an opportunity to ride in a real reindeer sleigh, drive on snowmobiles, arrange a race on snowshoes.
SANTA CLAUS VILLAGE
For children, of course, it will be interesting to visit the real residence of the Finnish Santa Claus. Joulupukki village is very close, 9 km from the complex of Suomutunturi. There, they will be able to plunge into the magical festive atmosphere, make a wish and get a New Year's gift from the hands of a real winter wizard.
THE MOST NEW YEAR COUNTRY – SAUNA, FIREWORKS AND FAIRS
New Year in Finland is a separate topic. It's no wonder that Finland is called the New Year country itself. This holiday is traditionally celebrated among friends and relatives.
How the Finns celebrate the New Year:
December 24, you need to go to the Finnish bath, and spend Christmas Eve in the church in the service.
There is no battle of the chiming clock on New Year's Eve, but there is always a firework of grand scale and beauty.
All relatives and friends as a souvenir for the holiday decided to give a candle, because It is fire that is considered the main symbol of the New Year in this country.
Carefully keeping and observing all traditions, the Finns do not forget about merry festivals. One of the examples of such festivals is, of course, Christmas fairs, which are organized everywhere. The most famous – the name of St. Tuomas – takes place in the Esplanade Park in Helsinki. Also fun fairs are organized in Kotka, Turku, Lappeenranta and many other cities in the country. And the New Year and the rest in the cottage perfectly complement each other. We always have a large selection of free holiday homes in Finland for the New Year and for the summer!